If you can't tell by the headline, and if you don't know me so well, my mother passed away when I was fourteen. Now, your first reaction is probably something along the lines of pity, compassion, empathy, sympathy, or if you're a real sociopath, detachment as you go about your sterile life of murdering bugs and hanging up on your girlfriend.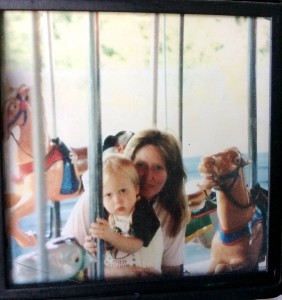 In person, what those first four reactions usually manifest themselves as is: "I'm sorry."
Now, I'm not the most up to date on all things manners, but to me, apologizing for somebody's mother passing away years ago just doesn't seem like the proper response. It usually leaves me either joking it away: "Well, it wasn't your fault, was it?" Or just tossing out a "thank you" as my eyes hit the ground and we both desperately wait for the subject to change.
It's not that I think you guys are all dicks, it's just that, I've heard the word "sorry" as much as I've heard the words "please stop dancing near me you are very unattractive."
Honestly, I'd like to talk about almost anything else. One time my girlfriend and I had to push my dog's erection back into his penis sack because it got stuck out. I gagged the whole time and I'm pretty sure it changed me as a person, but I'd rather talk about that for hours than sit in the moment after I tell someone about my childhood.
In fact, I stopped telling people for a long time because I was tired of the pitiful looks and the general vibe of you must be so brave to have endured something like that.
Here's the thing. I'm not very brave. I had a GREAT life (and still do). I had a GREAT mom. And I still have a GREAT dad. Do I wish I had more time with her? Of course I do. Would I trade those fourteen years for sixty with someone else? Not in a hundred lifetimes. I got to be raised by two parents who loved me, adored each other, and provided me with enough confidence to create a short film about living in a bathtub that I think has 17 views. There's nothing to be sorry about.
Sure, I often can't sleep and I am constantly riddled with thoughts about my overall success, but my girlfriend and I have a few cats that are pretty sweet and a dog that rules when he's not getting his boner tucked back in. I get to work in a business that gives me freedom and allows for creativity, even though at times it's like getting kicked in the back of the head repeatedly. And, I eat tacos pretty regularly. Tacos fucking rule!
But part of this great life is tied into my tragedy as well.
My older sister and I are inseparable. We have a relationship that is unbelievably hard to describe and is forged in the fact that she did some of the raising of me. I've never taken my dad for granted for even one day since I was fourteen (how many kids can say that? Most kids are just HUGE squidbags), and ditto goes for my brother who, no matter how long it's been, becomes a best friend again as soon as we're in the same room.
I guess I don't really need you to be sorry, that's not a particularly bad hand I was dealt.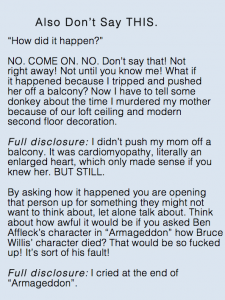 So, Matt, are you here to bitch or are you here to actually tell us what we can say to you that won't make you write a thousand word essay of your anger? Or did you just want to write about a really dark subject and put in multiple references to your dog's gross boner because you're a goddamn weirdo? (That's three references, by the way).
Well you guys are in luck, because after some soul searching – looking at my cats while I drink iced tea – I've decided what I think would be appropriate. At least for me.
Why not ask: "What was she like?"
I've never gotten that question. Not once. At least not for quite some time after the "I'm sorry's" and "How did it happen's" finally made their way through. And that's something that actually sounds pretty great to talk about.
I can tell you that she was a badass.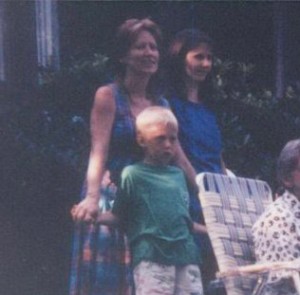 She grew up in a not great area with a bunch of siblings and an on-again/off-again single mother in Philadelphia. She moved to Connecticut to become a scientist (A FUCKING SCIENTIST) even though she was offered a full ride to stay in Philly because she needed to strike out on her own. And she was such a force of nature that her mother, sister, and brother all followed her to a little farm town called Tolland. <– [The birthplace of Matt Gudernatch]
I hear stories that make me think she smoked the occasional pot in her youth and that she loved white zinfandel. She also fiercely loved her family.
That's the good shit. That's the shit that makes my heart feel better when I'm telling the story.
And look at that, just thinking about "what was she like," I'm reminded of everything that was so great about her. I remember that we both laugh in inappropriate situations, that we used to pick these weird little flowers in my backyard, and that if she was still around she might actually like the little web series I make with my cats that are so very, very stupid.
I'm not trying to change a worldwide dialogue or anything, but in the future, if you're trying to figure out the appropriate response, maybe it's just seeing what that person was like. I'm willing to bet there are some good stories.
Otherwise, get ready for a quick head nod and a long story about my dog's penis.